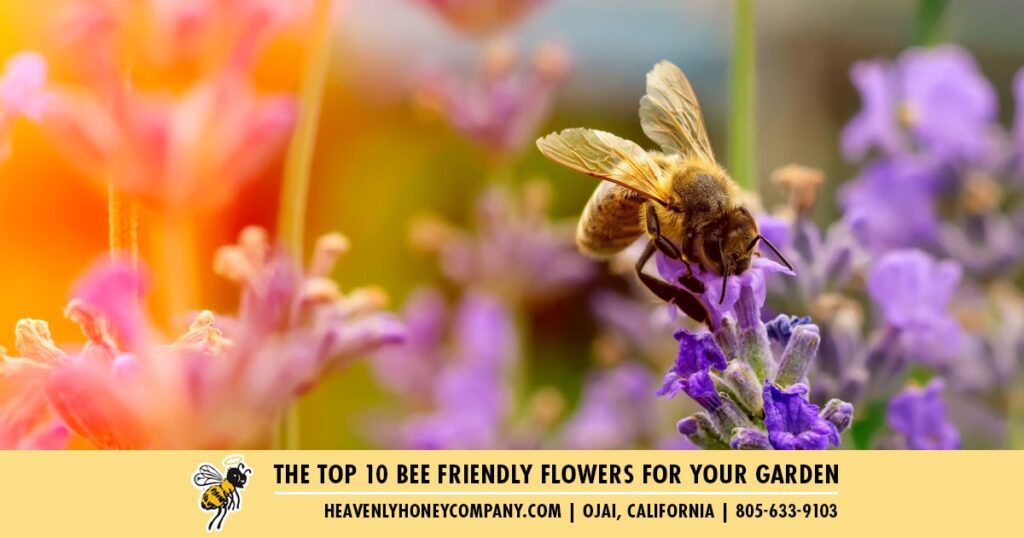 In the symphony of garden sounds, the soothing buzz of bees stands out as a heartwarming note. Beyond their promise of golden honey, bees are indispensable architects of our green sanctuaries, fortifying the health and vigor of our blooms.
Yet, with sprawling urban landscapes altering their habitat, these petite pollinators grapple with dwindling resources. As stewards of nature and protectors of our green pockets, we hold the key to their flourishing future. Cultivating a bee friendly garden transcends fleeting trends; it's an embrace of true ecological stewardship.
Explore this guide to unveil the top 10 bee friendly flowers that transform your garden into a haven for bees, fortifying a more balanced and bountiful ecosystem.
BLOSSOM INTO THE WORLD OF BEE FRIENDLY FLOWERS 🌸🐝
INSPIRED BY OUR "TOP 10 BEE FRIENDLY FLOWERS FOR YOUR GARDEN" BLOG? EMBARK ON A SENSATIONAL JOURNEY OF FLAVOR INSPIRED BY THESE BEAUTIFUL BLOSSOMS. WE'RE THRILLED TO PRESENT THE HEAVENLY HONEY COMPANY'S AT HOME HONEY TASTING EXPERIENCE.
DIVE INTO OUR SOOTHING CHAMOMILE TEA, SWEETEN YOUR DAY WITH OUR DISTINCTIVE SAGE HONEY, AND UNVEIL A SYMPHONY OF FLAVORS WITH OUR HONEY TASTING BOX. EACH PRODUCT BEARS THE FRAGRANCE AND ESSENCE OF VIBRANT FLOWERS FROM THE SUN-KISSED MEADOWS OF OJAI, CALIFORNIA.
EXPERIENCE THE AUTHENTIC TASTE, STRAIGHT FROM THE GARDEN TO YOUR CUP AND PLATE. EMBRACE THE BOUNTY OF NATURE AND TASTE THE HEAVENLY HONEY PROMISE.
Now let's jump into The Top 10 Bee Friendly Flowers For Your Garden!
Why Bees are Essential for Gardens
In the intricate dance of nature, bees emerge not just as participants but as key choreographers. Their role goes beyond the familiar buzz that echoes through gardens, stretching into a vital function that impacts the entire ecosystem.
The Role of Bees in Pollination
Nature is a web of relationships, and the bond between bees and flowers is among its most poetic. Bees, with their diligent work ethic, flit from bloom to bloom, collecting and transferring pollen. This natural pollination ensures plant species' continuity, giving us bounteous gardens and the diverse foods we relish. If we were to draw an analogy, bees are like the mail carriers of the botanical world, delivering essential packages that ensure life flourishes.
Read Also: Pollination: The Bee's Integral Link in Our Food Chain
The Decline of Bee Populations
But like many beautiful tales, this one has its shadows. The world's bee populations face alarming declines. Between habitat destruction, harmful pesticides, and shifting climates, bees are finding it challenging to thrive. A world with dwindling bees is less melodious and threatens the fabric of our ecosystems and food sources.
The Importance of Bee Friendly Flowers
So, what can we do? Simple. We can begin with our gardens. Turning our gardens into bee sanctuaries is a step toward healing. Bee friendly flowers don't just paint your garden with vibrant colors but serve as nourishing havens for bees.
The Must-Have Bee Friendly Flowers for Your Garden
Creating a bee friendly garden isn't just about planting flowers; it's about painting a canvas where every bloom has a story and purpose.
Sunflowers: The iconic sunflower stands tall and proud with its radiant yellow petals surrounding a deep brown core. Its broad face offers a generous amount of pollen, making it akin to a sumptuous feast for bees.
Lavenders: Imagine standing amidst a field of lavender, the air fragrant with a calming aroma and the horizon painted in shades of purple. Lavenders, with their slender stalks and tiny purple blooms, are rich in nectar, drawing bees like a siren song.
Coneflowers: These beauties, with their vibrant purple and pink petals arching away from a spiky, central cone, are more than just visual delights. Their daisy-like appearance is an open invitation for bees searching for nectar.
Marigolds: Their golden-orange hue seems like the very essence of sunshine captured in petals. Apart from being attractive to bees, marigolds have the added advantage of repelling garden pests.
Borage: A lesser-known gem, borage boasts delicate, star-shaped blue flowers. Their tiny size belies the rich nectar they contain, making them a bee favorite.
Cosmos: These flowers resemble ethereal dancers, with petals in hues of pink, white, and maroon, twirling in the wind. Their open petals provide easy access to bees, making them a garden essential.
Crocuses: These are spring's gift, blossoming to announce winter's end. Their goblet shape and vibrant colors are a beacon for bees emerging from winter's lull.
Rosemary: This culinary herb, with its slender, needle-like leaves, surprises many with its delicate blue flowers. For bees, they are a source of rich nectar.
Asters: These starry flowers, often found in purples and pinks, bloom during late summer and autumn, offering bees sustenance as the colder months approach.
Mint: The refreshing scent of mint is loved by many, but its tiny white flowers, often overlooked by gardeners, are a treasure trove for bees.
Tips to Cultivate a Bee Friendly Ambiance
In the intricate web of nature, bees play an indispensable role as prolific pollinators, ensuring the health and prosperity of our ecosystems. These industrious creatures enhance our gardens, play a key role in our food production, and enchant us with their buzzing symphonies.
Sadly, with the changing climate and human interventions, bees face mounting challenges to their survival. To foster an environment where bees can thrive and continue their essential work, consider adopting the following practices in your own green spaces:
Avoid Pesticides: Chemical pesticides can be lethal to our buzzing friends. Instead, gravitate towards eco-friendly, organic pest control solutions that preserve the delicate balance of nature.
Water Source: You can offer bees a refreshing drink by placing a shallow dish filled with water and scattered stones. The stones provide safe landing spots, preventing these tiny pollinators from drowning.
Diversity: Planting a rich tapestry of flowers that blossom at varied intervals ensures that bees have a consistent source of nectar and pollen throughout the year. This sustains their colonies and adds vibrant hues to your garden.
Native Plants: Indigenous flora tends to be a magnet for local bee species. Besides being an attraction, these plants typically thrive with minimal care, making your garden both bee friendly and low-maintenance.
Maintaining Your Garden's Health and Beauty
In the realm of gardening, balance is paramount. Crafting a space that radiates natural beauty while ensuring longevity requires more than periodic watering or sunlight. There are nuanced practices, often overlooked by novices, that can significantly elevate a garden's vibrancy and allure.
Delving into these practices, we've curated a comprehensive guide designed to walk you through essential techniques that not only boost your garden's health but also enhance its visual appeal. Herein, you'll discover a blend of conventional wisdom and modern insights to help your garden reach its fullest potential:
Regular Pruning: Every so often, taking a closer look at your plants is essential. By carefully snipping away lifeless or drooping blooms, you enhance the plant's appearance, rejuvenate its energy, and stimulate fresh sprouts. This process ensures that your plants remain vibrant and continue to flourish.
Organic Mulching: The foundation of a healthy garden lies in its soil. You take a two-fold approach to garden care by laying down organic mulch. Firstly, the mulch acts as a barrier, preserving the soil's moisture and ensuring it remains hydrated. Secondly, it enriches the soil with vital nutrients while also protecting against invasive weeds, ensuring your plants have the best environment to thrive in.
Let Plants Flower: Gardens are not just about the green but about the vibrant colors and scents that flowers bring. You do more than beautify your space by permitting your vegetable plants and herbs to blossom. You provide a richer, more diverse buffet for bees, aiding in pollination and ensuring the continued propagation of many plant species.
Stay Natural: In our quest for the 'perfect' garden, it's easy to lean towards over-manicuring and creating an overly structured space. However, nature thrives in diversity and a bit of chaos. Allowing your garden some spontaneity and wild patches brings in a sense of natural beauty and offers a haven for wildlife, especially bees, who appreciate gardens with a touch of wild charm and authenticity.
Conclusion
The harmonious hum of bees is a testament to a garden's health and vitality. By embracing bee friendly practices and plants, we not only beautify our surroundings but also play a part in preserving these incredible pollinators. As you sip your morning tea (have you checked out our line of beautiful teas?), gazing at the bustling activity in your garden, take a moment to marvel at the intricate dance between bees and blossoms. Every flutter, every buzz, and every petal tells a story of coexistence and mutual benefit.
Bees, with their golden hues and tireless wings, are more than just pollinators; they're storytellers, narrating the age-old saga of life and continuity. By creating bee friendly gardens, we don't just become gardeners; we become custodians of these tales, ensuring that future generations can also sit by their windows, a cup of tea in hand, and lose themselves in the enchanting world of bees and blooms.
So the next time a bee buzzes past you, remember, it's not just looking for nectar. It's weaving the story of the earth, of nature's bounty, and of the delicate balance that sustains us all. And in our gardens, we are privileged to be a part of that story.
FAQ's
How often should I water bee friendly flowers?
While the watering frequency depends on the specific flower, most prefer deep, infrequent watering to shallow, frequent sprinkles. Always check the soil's moisture level before watering.
Are bee friendly gardens expensive to maintain?
Not necessarily. Many bee friendly plants are low maintenance. By opting for native plants and organic gardening practices, costs can be kept minimal.
Do all bees sting?
No, many bee species don't sting. Male bees (drones) of stinging species cannot sting; even females will generally only sting if threatened.
What other insects can be beneficial for my garden?
Ladybugs, spiders, praying mantises, and butterflies are a few beneficial insects that can help control pests and assist in pollination.
How can I protect my bee friendly garden in colder months?
Mulching, using compost, and allowing certain plants to die naturally can provide bees shelter and food during the colder months.