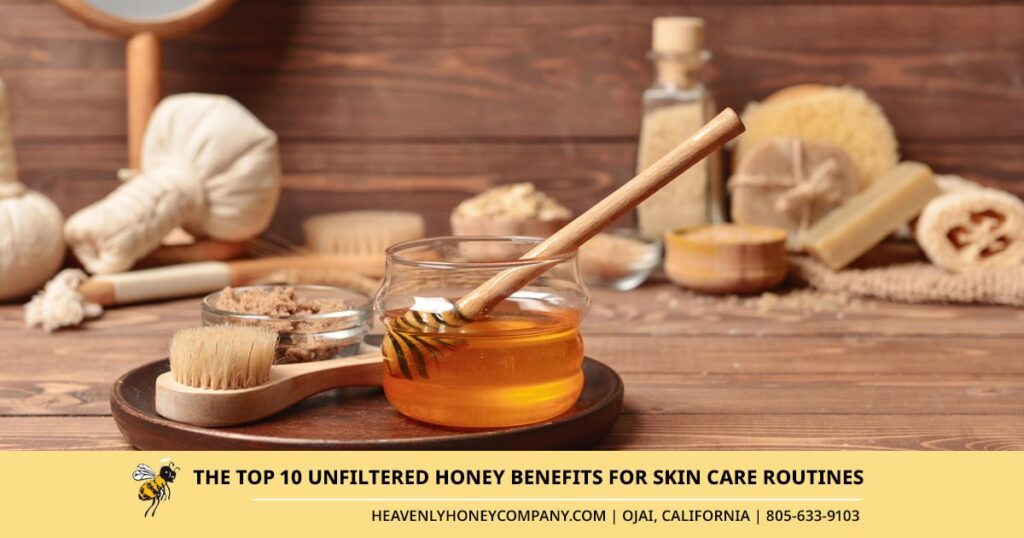 Welcome to the hive of nature's best-kept beauty secret – unfiltered honey. The search ends here if you're searching for an all-natural and potent addition to your skincare routine. Get ready to learn about the ten unfiltered honey benefits for skin regimens. This age-old natural remedy can work wonders, especially when left in its most natural, unfiltered state. Buckle up and prepare to be amazed.
What is Unfiltered Honey?
Before diving into the beauty benefits, let's clear the air about what unfiltered honey is. Contrary to the conventional honey found in most supermarkets, unfiltered honey is raw, pure honey straight from the beehive, which means it retains all of its healthful properties. So, why not leverage the all-encompassing goodness of unfiltered honey for our skin?
Unleash the power of nature in your skincare routine! 🍯🐝
Our pure, organic honey products are not just food for your soul, but also a golden elixir for your skin. Packed with antioxidants, enzymes, and essential nutrients, our honey works magic on your skin – hydrating, nourishing, and naturally brightening it to reveal a radiant, youthful glow.
Make the switch to our honey products today – because your skin deserves nothing but the best!
Now let's jump into The Top 10 Benefits of Unfiltered Honey for Skin!
Moisturizing Marvel: Unfiltered honey is an exceptional humectant. You may wonder, what is this moisture magnet, otherwise known as a humectant? Picture a substance that not only attracts but also locks in hydration.

When slathered on your skin, this golden nectar of unfiltered honey ensures that moisture doesn't merely visit but takes up permanent residence, rendering your skin irresistibly soft and plump. A delightful and noteworthy feature surely warrants a lively buzz of appreciation.

Anti-Aging Ally: Though the elusive power of time travel remains a whimsical fantasy, the magic of decelerating the relentless march of time on our bodies is, indeed, within our grasp. Nature's sweet elixir, raw, unfiltered honey, is bountiful in offering potent antioxidants, warriors in a microscopic battle, standing tall against harmful free radicals.

These free radicals, notorious for their cell damage, can be successfully neutralized, thus curbing the onset of premature aging and inhibiting the formation of unsightly wrinkles. Remember, just a minute dollop of honey is all you need, a secret weapon to preserve your radiant youthfulness. After all, a touch of honey today can keep those fine lines at bay!

Wound Healer: Unfiltered honey is a potent curative potion harnessed from nature, which is incredibly productive in restoring minor injuries such as superficial lacerations, abrasions, and burns. Its remarkable antiseptic and anti-inflammatory traits create a nurturing and healing milieu, reinforcing the body's restorative process.

Furthermore, honey's powerful antibacterial characteristics serve as a biological shield, preventing harmful microbes from infiltrating the wound and instigating infections. Concurrently, the anti-inflammatory virtues of this golden elixir function to alleviate discomfort by tempering both swelling and pain, enabling a more comfortable and expedited healing journey.

A Natural Solution for Acne: Bid farewell to persistent acne and uninvited breakouts. Natural, unfiltered honey, loaded with potent antibacterial and anti-inflammatory characteristics, heroically battles against the bacteria that trigger acne. It reduces the unsightly redness and provides a soothing balm for inflamed skin.

In essence, honey isn't merely a sweet delight—it's a skincare warrior, hailed as the bee's ultimate contribution to resolving acne issues!

Gentle Exfoliator: Unfiltered honey functions as a mild and organic skin buffer; it brims with active enzymes, purifying your skin by gently sweeping away lifeless skin cells and unveiling a fresher, silkier, and revitalized complexion beneath. Indulge in this sweet, honey-infused exfoliation for an enticing journey to more radiant skin!

Maintains Skin pH Balance: Have you ever contemplated the remarkable influence of pH balance on the health of your skin? Consider this: unfiltered honey, boasting a pH level mirroring that of our skin, steps in as a natural guardian of this fine equilibrium. This intricate balance is fundamental to fostering peak skin health. Put your faith in the humble bee's offering for an impeccably balanced complexion!

Pore Cleanser: Unfiltered honey, brimming with its natural, untouched purity, is a highly effective pore purifier. Following your typical skin cleansing routine, smooth a gossamer layer of this golden nectar over your complexion.

Allow this sweet, aromatic mask to rest on your skin, its miraculous properties working their magic for approximately 10 minutes. Afterward, gently wash away with water and warm to a mild temperature. This method helps to effectively dislodge and clear away pore congestion, diminishing the appearance of unsightly blackheads and leaving your skin feeling refreshed and radiant.

Natural Sunburn Salvation: Immerse yourself in the tranquil warmth of the sun, and you may find that your skin craves a reprieve. The harsh sunlight can often leave behind an uncomfortable reminder, causing your skin to flush a painful red and ache for some soothing relief. Enter the unfiltered honey, a balm sent straight from nature's pantry.

Its healing powers are infused with impressive anti-inflammatory virtues, swiftly intervening to alleviate redness and facilitate the skin's natural regeneration process. So, when the sun decides to plant a rather fervent kiss on you, causing your skin to glow brighter than you'd like, remember this – Honey, with its sweet, restorative embrace, is your ultimate soothing sentinel!

Fighting Skin Infections: The onslaught of skin infections can indeed be a formidable adversary. Yet, there is no reason to succumb to apprehension! The unfiltered, all-natural nectar of the bees, known as unfiltered honey, is equipped with powerful antibacterial attributes.

This amber-hued elixir takes an active role in your defense, fearlessly combatting an array of skin invasions. With its assistance, you can maintain a state of skin health devoid of infections, allowing you to enjoy a vibrant and infection-resistant dermal layer.

Complexion Enhancer: Unfiltered honey works wonders on your skin, facilitating its tactile softness and elevating its overall complexion to a more luminous level. Incorporating this golden nectar into your skincare routine can usher in a palpable and radiant glow, gifting your skin with a look of vitality and enthusiasm that speaks volumes of its health. Here's a toast to achieving a radiant gleam through the potent potency of nature's bounty!
Summing Up the Sweetness Of 10 Honey Benefits For Skin
The expansive universe of skincare is teeming with an abundance of concoctions. Yet, sometimes, the most potent and efficacious remedies are bestowed upon us by Mother Nature herself. Our journey into the "10 Unfiltered Honey Benefits for Skin Care Routines" has unearthed the undeniable fact that this viscous, amber nectar, in its most pristine and unadulterated state, is nothing less than a skincare marvel.
At this point, it should be as transparent as a dew-kissed morning how unprocessed honey has the potential to revolutionize your skincare regimen. From amplifying skin moisture and combating the unforgiving hands of time to battling acne outbreaks and enhancing the overall radiance of your complexion, the advantages it offers are bountiful.
So, why not venture into the world of unfiltered honey, and let this natural sweetness enrich the canvas of your skincare ritual!
Video Resources
FAQs
What does honey do to your face?
Honey has numerous benefits for the skin, and when applied to the face, it can be a powerful beauty treatment. Here are some ways honey can benefit your skin:
Moisturizing: Honey is a natural humectant, meaning it draws moisture from the air into the skin and ensures it's retained it in the layers where it's needed most for penetrating, long-lasting hydration.
Antioxidant: It contains antioxidants, enzymes, and other nutrients that nourish and cleanse the skin. Antioxidants in particular help to protect your skin from the damage of the sun's rays and aid the skin's ability to rejuvenate and refresh depleted skin, leaving it feeling silky soft and supple.
Anti-bacterial and anti-septic: Honey, especially raw honey, has anti-bacterial and anti-septic properties that can benefit oily and acne-prone skin. These properties help to combat acne-causing bacteria and can help heal existing acne.
Anti-inflammatory: It also has anti-inflammatory effects, which can reduce redness and swelling of acne, as well as other inflammatory skin conditions like eczema and psoriasis.
Exfoliation: Honey contains mild exfoliating properties due to the presence of organic acids like gluconic acid, making it capable of gently removing dead skin cells. This helps your complexion to look fresher and brighter.
Healing: Honey may help your skin heal faster. It's been used as a wound dressing for centuries, and research suggests it might be helpful in wound healing due to its antibacterial, anti-inflammatory, and antioxidant properties.
Remember, before using honey or any other new substance on your face, you should do a patch test to see if your skin reacts negatively to it. Simply apply a small amount of honey to an inconspicuous area, like the inside of your wrist, and wait for at least 24 hours to see if any adverse reactions occur.
Can we use honey on the face daily?
Yes, you can use honey on your face daily. Honey is a natural humectant, meaning it draws moisture from the air into the skin and ensures it's retained in the layers where it's needed most for penetrating, long-lasting hydration. However, it's essential to note a few things:
Type of Honey: Not all honey is created equal. Raw, unpasteurized honey has the most health benefits. We recommend our Buckwheat Honey.  It has a proven track record for it's higher than normal healing properties.
Skin Type: While honey can be great for all skin types, those with sensitive skin should be cautious. Honey is pretty safe, but it can cause a reaction in some people. Always patch test a new skincare product or ingredient — apply a little bit to a small area of your skin and wait at least 24 hours to make sure you don't have a reaction. On the flip side, honey can be great for sensitive skin! When most expensive skin clearing products can be too harsh or drying, honey is soothing and healing and a better solution in many cases.
Application: You can use honey as a face mask: Apply a thin layer of honey to slightly damp skin using a circular motion. Leave the honey for at least 30 minutes and then gently rinse it off with warm water. You can do this daily or a few times a week. We do this after our shower when our skin is clean and our pores are open.
Remember, it's always important to consult with a dermatologist or skincare professional before starting a new skincare routine, especially if you have specific skin conditions or concerns. They can provide personalized advice tailored to your skin's needs.
Does honey clear dark spots?
Honey, a natural product, is often touted for its potential skin care benefits. It's known for its antimicrobial, antioxidant, and humectant properties, which can all contribute to healthier skin. It may help to calm inflammation and soothe skin, which could potentially reduce the appearance of dark spots over time.
However, it's important to note that the evidence supporting honey's effectiveness in specifically clearing dark spots is not conclusive. While some people might see improvement in their skin from using honey, this can greatly vary from person to person.
Always remember to patch test any new skincare products or ingredients on a small part of your skin before applying them to larger or more sensitive areas. Also, consider consulting with a dermatologist for personalized advice.
Keep in mind that protection from the sun's harmful rays is a crucial part of any skincare routine, especially when you're trying to reduce dark spots. Even the most effective topical treatments will be less successful if your skin continues to get sun damage. Therefore, regularly using sunscreen is also a key part of managing dark spots.
Does honey tighten skin?
Yes, honey has properties that can benefit the skin, including potentially helping it to appear more firm or "tight."
Honey is a natural humectant, meaning it draws moisture into the skin, which can improve skin hydration. Proper hydration can make the skin appear smoother and more youthful.
In addition, honey has antioxidant properties, which can help to protect the skin from damage caused by environmental stressors like UV radiation. This protection can potentially slow the aging process, leading to the appearance of firmer skin.
However, while using honey can be beneficial, it's not a miracle cure for aging or sagging skin. Skin sagging is generally caused by a loss of collagen and elastin in the skin, something that honey cannot reverse. So, while it might help your skin look a bit better, it's not going to provide the same results as medical treatments or procedures designed to tighten skin.
Also, remember that honey is a potential allergen. Always do a patch test on a small area of your skin first to make sure you won't have an adverse reaction. If you have any concerns about using honey or other natural substances on your skin, it's best to consult with a dermatologist.