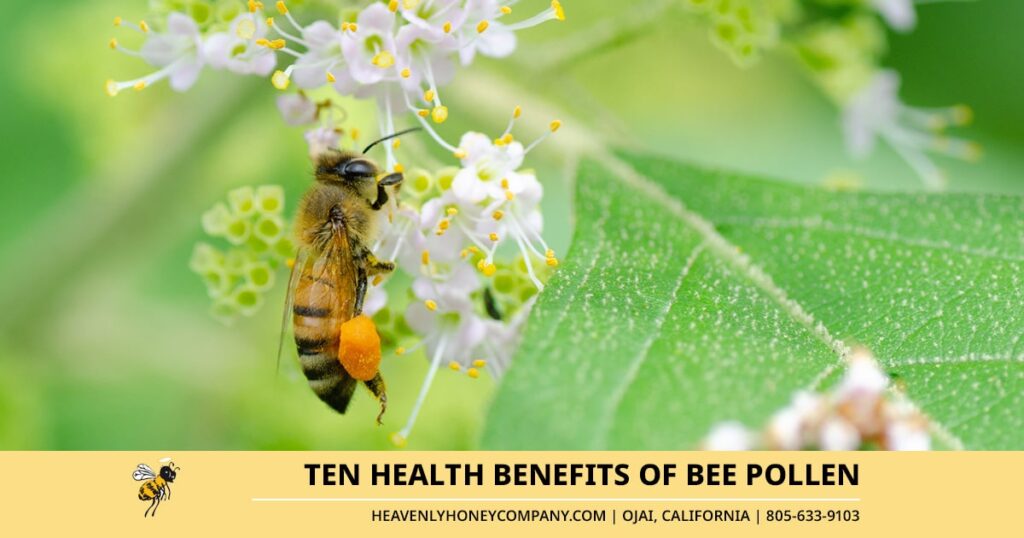 We, as humans, continually seek natural remedies to improve our health and vitality. Bee pollen is one such potent substance brimming with numerous health benefits. Today, let's explore these 10 health benefits of bee pollen, how bees use this extraordinary substance, the potential implications of harvesting it, and side effects and precautions.
What is Bee Pollen?
Bee pollen is a nutrient-dense substance gathered by bees from plants. This precious golden granule serves as food for young bees and is teeming with proteins, vitamins, and minerals. But bees aren't the only ones who can take advantage of this superfood; so can we!
How Do Bees Use Bee Pollen?
Bee pollen plays a vital role in the bee community. Worker bees gather pollen from flowers and mix it with nectar or honey to form a pollen ball. This substance is stored in 'pollen baskets' on their hind legs and carried back to the hive. It serves as the primary protein source for the hive. It is particularly essential for feeding the queen bee and young bees.
Discover the Pure, Natural Goodness of Wildflower Honey Products Today! 🍯🐝
Unleash the power of nature's superfood with our wildflower honey products. Bursting with essential nutrients, vitamins, and antioxidants, our honey is the golden treasure bees gift us with from the heart of wildflowers.
Continue reading below to view Ten Health Benefits of Bee Pollen!
Ten Health Benefits of Bee Pollen
Nutrient Rich: Initiating our exploration, bee pollen emerges as a full reservoir of essential nutrients. This little wonder is brimming with potent proteins, a broad spectrum of vitamins, minerals, and many other vital nutrients, serving as a comprehensive dietary supplement.
Boosts Energy: Being exceptionally rich in the critical B vitamins, bee pollen is a phenomenal energy booster. It is renowned for amplifying stamina and successfully warding off feelings of fatigue, thereby making it a crucial ingredient in powering up your day.
Supports Immunity: The health-boosting properties of bee pollen also extend to fortifying the immune system. It invigorates the body's defensive responses, contributes to allergy management, and encourages overall immunity resilience.
Aids Digestive System: Bee pollen is packed with enzymes instrumental in optimizing digestion. They facilitate the breakdown of food, enhance the absorption of nutrients, and thereby contribute significantly to overall digestive health.
Heart Health Ally: Bee pollen is a reliable companion for heart health, given its content of Rutin. This potent antioxidant bioflavonoid fortifies blood vessels and orchestrates the regulation of cholesterol levels, fostering cardiovascular well-being.
Promotes Liver Health: Recent research indicates that bee pollen has hepatoprotective properties, thus offering a robust defense to liver health. It provides much-needed support and care to this vital organ, ensuring it functions optimally.
Skin Health Enhancer: Bee pollen revitalizes skin cells by stimulating their blood supply to them. This, in turn, fosters cell rejuvenation, thereby promoting a radiant and youthful complexion.
Anti-Inflammatory Properties: Possessing innate anti-inflammatory attributes, bee pollen serves as a natural antidote to inflammation. It helps to alleviate swelling, providing relief in various inflammatory conditions.
Stress Reliever: Equipped with a generous dose of B vitamins, bee pollen can elevate mood and significantly mitigate stress. It provides a calming effect, making it a perfect ally in your battle against daily stressors.
Promotes Healthy Weight: Finally, bee pollen paves the way to managing weight effectively. It aids in the dissolution and elimination of body fat, actively supporting your journey towards a healthy weight.
Does Harvesting Pollen Harm Bees?
Harvesting pollen from bees calls for an approach steeped in responsibility and sensitivity. It's a delicate balance where beekeepers, acting as stewards of these industrious insects, must guarantee that a sufficient bounty of pollen is left untouched to satisfy the hive's dietary necessities.
The harvesting process is a vital aspect of beekeeping. Still, it must not become a reckless pursuit—every grain of pollen matters. Beekeepers need to exercise restraint to prevent overharvesting, which can deprive the bees of vital nutrients and jeopardize the thriving of their colony.
The colony, the organized and interconnected society of bees, is vulnerable to disruption if the pollen – its primary food source – is stripped away excessively or thoughtlessly. Over-harvesting of pollen can destabilize the colony, leaving the bees weakened and potentially decimating their numbers.
Side Effects and Precautions
Engaging with bee products can bring forth a myriad of risks, such as potential allergic reactions, the chance of product contamination, and adverse interactions with certain medications like blood thinners. Thus, it is imperative for anyone contemplating the use of bee pollen to first conduct a thorough discussion with their healthcare provider.
Risks of Allergic Reactions: Individuals who demonstrate allergic sensitivity towards pollen must proceed with extreme caution when considering pollen-based products. Consulting with an allergist or primary care doctor before usage is essential. Those exhibiting allergic reactions to bees or bee stings should consciously avoid pollen products.
Contamination Concerns: As bee pollen is a natural product, there is a possibility of contamination during the collection process carried out by the bees. One such example includes mold exposure, which could originate from decaying plant matter, potentially tainting a batch of bee pollen. Additionally, improper storage of bee pollen can lead to the degradation of the product, heightening the risk of contamination.
Potential Interactions with Medications: Bee pollen and its constituent compounds may exhibit unfavorable interactions with some medications. Consequently, individuals must seek professional medical advice before incorporating bee pollen into their dietary regimen.
Considerations during Pregnancy and Breastfeeding: Pregnant or nursing individuals may want to exercise caution when it comes to bee products. It would be prudent to consult with their healthcare provider before using these products.
In Conclusion
The benefits of bee pollen are vast and varied, enhancing our energy, supporting our immunity, and promoting healthy skin. However, as with any natural remedy, we must be cautious and aware of potential side effects. If harvested responsibly, bee pollen can be a sustainable resource that benefits both bees and humans. Visit us today to view our exclusive in store products!
Video Resources
FAQs
Is bee pollen safe for everyone?
Bee pollen is generally safe for most people, but it's not safe for everyone. People with a known allergy to bees or bee products should avoid it, as it may cause a severe allergic reaction. It can also cause increased bleeding with certain blood-thinning medications like warfarin. Pregnant or breastfeeding women should consult their healthcare provider before consuming bee pollen, as its effects on these groups haven't been sufficiently studied.
Can I consume bee pollen directly?
Yes, you can consume bee pollen directly. It is often eaten straight from the spoon, mixed into yogurt or smoothies, or sprinkled on salad. The taste is somewhat sweet and floral. Before consuming, ensure the bee pollen is from a reliable source and properly cleaned and dried to avoid potential contaminants.
How much bee pollen should I take daily?
There is no standard dosage for bee pollen due to potency variations. Some health practitioners recommend starting with a small amount (like 1/2 teaspoon) and slowly increasing it to avoid potential allergic reactions. Some people take up to 1-2 tablespoons per day. It's crucial to consult a healthcare provider before starting any new supplement regimen.
Can bee pollen help improve athletic performance?
There is anecdotal evidence suggesting that bee pollen might enhance energy and endurance, improving athletic performance. However, as of my knowledge cutoff in September 2021, scientific evidence to support these claims is limited. More rigorous and large-scale studies are needed to confirm these potential benefits.