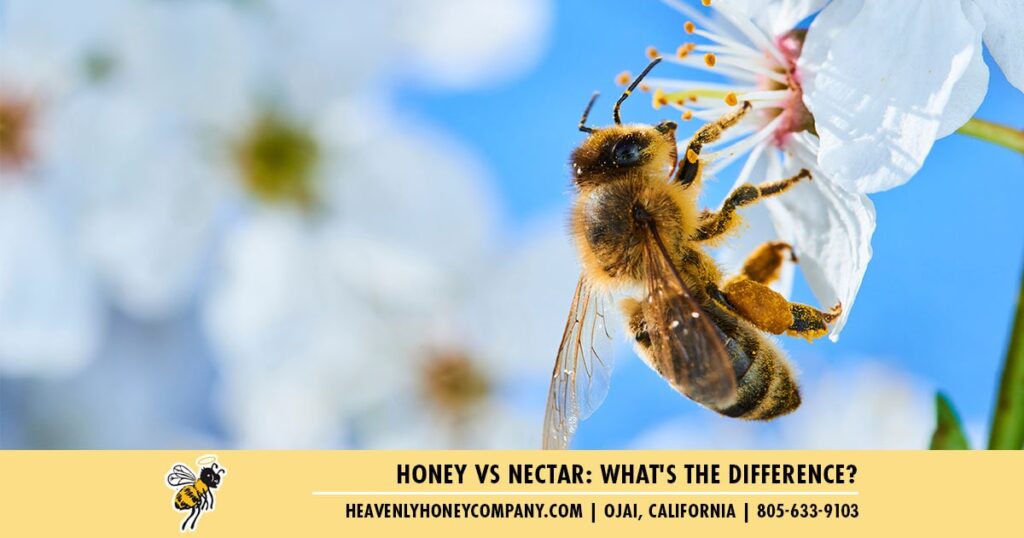 To truly grasp the "honey vs nectar" debate, let's embark on a sweet journey exploring the distinctions, origins, processes, and unique traits of each. Imagine setting off on a nature trek with the "honey vs nectar" question in mind, armed with a magnifying glass and eager to delve into the world of tiny creatures like bees and the radiant flowers they frequent.
Unravel the Sweet Mysteries Firsthand! 🍯✨
Now that you've delved into the delightful distinction between honey and nectar,
it's time to embark on a sensory exploration of your own:
🍯 At-Home Honey Tasting in a Box – Curate your honey experience. Journey through a spectrum of flavors, from the lightest whispers of florals to rich, deep undertones.
🍵 Cinnamon Apple Spice Loose Leaf Tea – Brew a cup of this enchanting blend, and discover how its warmth perfectly complements the sweetness of honey.
🌸 Wildflower Honey – Immerse yourself in nature's bouquet with every spoonful. Each taste is a testament to the myriad flowers visited by our industrious bees.
Go beyond the article and taste the difference for yourself. Dive into Sweetness Now!
Now let's jump into What's the Difference Between Honey vs Nectar!
The World of Flowers and Bees
Picture this: a beautiful, sunlit day with a clear blue sky, and you find yourself in a lively garden. Every corner is painted with colors from flowers in full bloom. Each flower's unique shape and color contributes to the breathtaking scenery. But beyond their beauty, these flowers have a purpose. They're hard at work, producing a sugary, sweet liquid that beckons various insects, with bees being the most frequent visitors.
And those bees? They're on a special mission. With purpose in their flight, they dart from one flower to the next, searching for this sweet treat. This liquid, known as nectar, is invaluable to them. They gather it carefully because it's not just a delightful snack. They have plans for it. They take it back to their hive and work their magic, transforming the nectar into a golden delight that many of us love: honey.
What is nectar?
Nectar is a sweet concoction created by plants. Have you ever tried to imagine being a flower for a day? If you were, nectar would be your special way of calling out to the bees, saying, "Hello there! Come visit me!"
Just picture yourself on a blazing summer day, handing out chilled lemonade to friends passing by. That's what plants are doing with nectar. They're extending a sugary invitation to bees and creatures like butterflies and hummingbirds.
Why do Plants Make Nectar?
There's a magical dance that happens in nature. When bees or maybe even butterflies approach a flower attracted by its nectar, they inadvertently brush against the flower's pollen. Pollen is like a golden dust for flowers. As these pollinators move from one bloom to another, they transport this pollen with them. This simple act is crucial because it aids in creating seeds and, eventually, fruits for the plant which allows for the plant's next generation to exist.
Picture this scenario as plants hosting a grand ball, and nectar is the exclusive refreshment they serve, encouraging their guests, especially bees, to mingle and help the plants flourish.
What Exactly is honey?
Honey is a delightful creation by bees using nectar they collect from flowers. This nectar transforms in bees' hands (or rather, mouths). They process the nectar, turning it into a rich, golden liquid that is thicker and more dense. An analogy to help understand this would be converting a light lemonade drink into a dense, sweet syrup.
How do Bees Craft Honey?
Bees collect nectar from flowers and store it in their "honey stomach". Back at the hive, worker bees pass the nectar to another bee whose entire job is putting the nectar into the honeycomb cells, then they process this nectar, engaging in a "dance" of fanning the air to reduce water content in the nectar. Once the moisture content is reduced, the nectar thickens, the nectar is stored in hive cells. At this point, it is considered honey. This honey is then sealed with beeswax for preservation. For a more detailed breakdown, refer to our article "How Honey is Made".
The Difference Between Nectar and Honey
Below are a few distinct characteristics between Honey and Nectar: sources, consistencies, purposes, and tastes.
Sources
Nectar: A gift from the botanical world, nectar is a sugary elixir conjured up within the blooms of plants, playing an integral role in nature's dance.
Honey: Amazingly, bees can convert the delicate nectar they gather into the thick and luscious substance we call honey within their hives.
Consistency
Nectar: Picture a light, translucent, watery juice, perhaps glistening with morning dew — that captures the essence of nectar.
Honey: Honey, on the other hand, is a treat for the senses with its rich, velvety, and sticky texture. No wonder it's a star ingredient in numerous recipes, as highlighted in our article "10 Honey Recipes: So Good, They're Heavenly "
Purpose
Nectar: Plants produce nectar as a siren song for pollinators, ensuring a seamless pollination process vital for seed production and the continuity of various plant species.
Honey: Bees don't just make honey for us to enjoy; it's their essential food storage. Especially during the colder seasons, this sweet reservoir is their lifeline.
Taste
Nectar: Its flavor is a subtle hint of sweetness, reflecting the essence of its floral source. Consequently, each nectar drop tells a different taste story based on its flower origin.
Honey: Honey's flavor is an intricate tapestry of sweetness. A bouquet of flowers influences its depth and range, each contributing to its unique taste. And if you're curious about how versatile this golden elixir can be, check out "There's 101 Ways To Use Honey, Here's The First 10!" to get inspired!
Wrap-Up and Fun Takeaways
We've uncovered some fascinating insights during our delightful stroll amidst the blossoms and buzzing bees. Both honey and nectar offer us a touch of nature's sweetness, yet each carries its unique story and characteristics. Consider their sources, appearance, and distinct flavors.
Imagine this: the next time you relish a drink sweetened with honey or pause to watch a bee gracefully navigate around a vibrant flower, you're witnessing a magical ballet choreographed by nature. On a clear and radiant day, you might be inspired to gather your friends, serve them refreshing lemonade, and regale them with the enchanting narrative of how honey and nectar come to be.
FAQs
What is the difference between nectar and honey?
The main difference is that nectar is a plant-produced liquid used to attract pollinators, while honey is a bee-made product derived from nectar.
Is honey just concentrated nectar?
While honey is thicker and has a higher sugar concentration than nectar, it's not just concentrated nectar. Bees add enzymes and change the nectar's composition to create honey.
Do bees make nectar or honey?
Bees do not make nectar; plants do. Bees collect nectar and then make honey from it in their hives.