A little over a year ago we brought a new dream for our little business to life. Custom blended, organic, loose leaf teas! This has been a dream of my Mom's for decades. It's been a fun journey for sure! Let me tell you about it.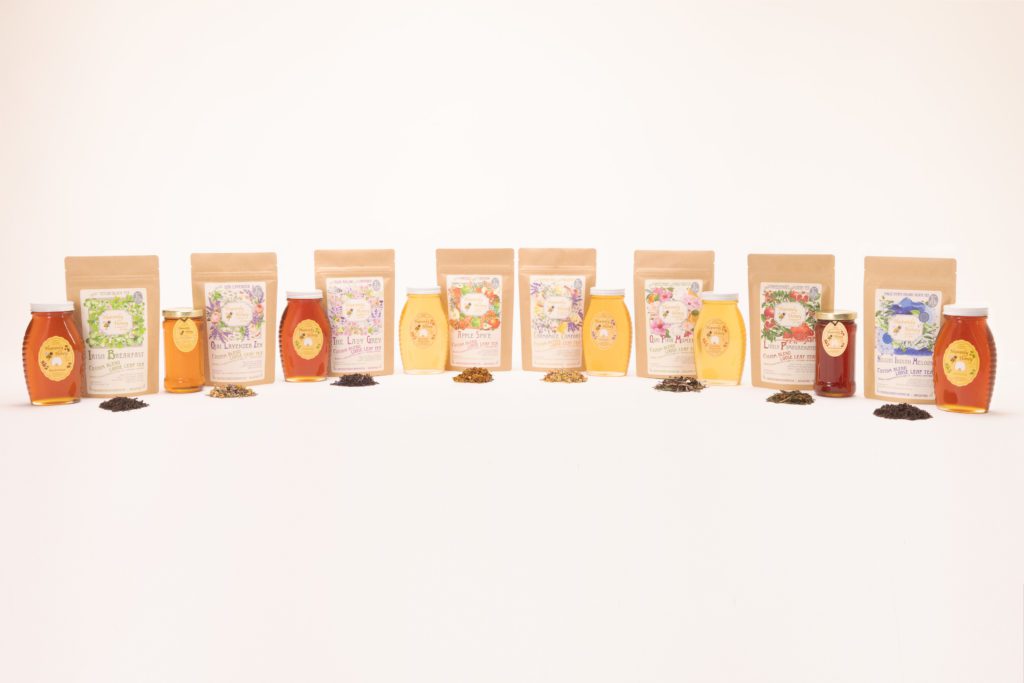 Through a local business group of food related businesses we met the lovely Donna Kashola and her helpful husband Mike Kashola. Donna owns a business in Camarillo called "All Things Tea." She is a Certified Master Blender and has great skill in creating tea blends that are both good for you and pleasing to the pallet. We went to her with a mission; create a line of teas to compliment our honeys. We also wanted some custom blends to be exclusively ours. We sat down and tasted tea after tea with Donna as she educated us all about tea and why her sources allow for the best quality. It is worth noting at this point, I have always been one who needs to sweeten my tea in order to be able to enjoy it. Never once did I think, "I need to add honey to this tea" while I was going through the tasting – the tea is THAT good! But I will say, for those who like their teas sweet (I'm still one) we have just the right honey for each of our teas!
We took our time perfecting our tea blends and designing just the perfect label that conveyed the goodness that awaits inside the package.  (Thank you Gracie Douglas at Mooney Creative for your genius talents!)  That slow deliberate pace was worth it!  The tea has become very popular with our customers new and old.  Some teas are hard to keep in stock!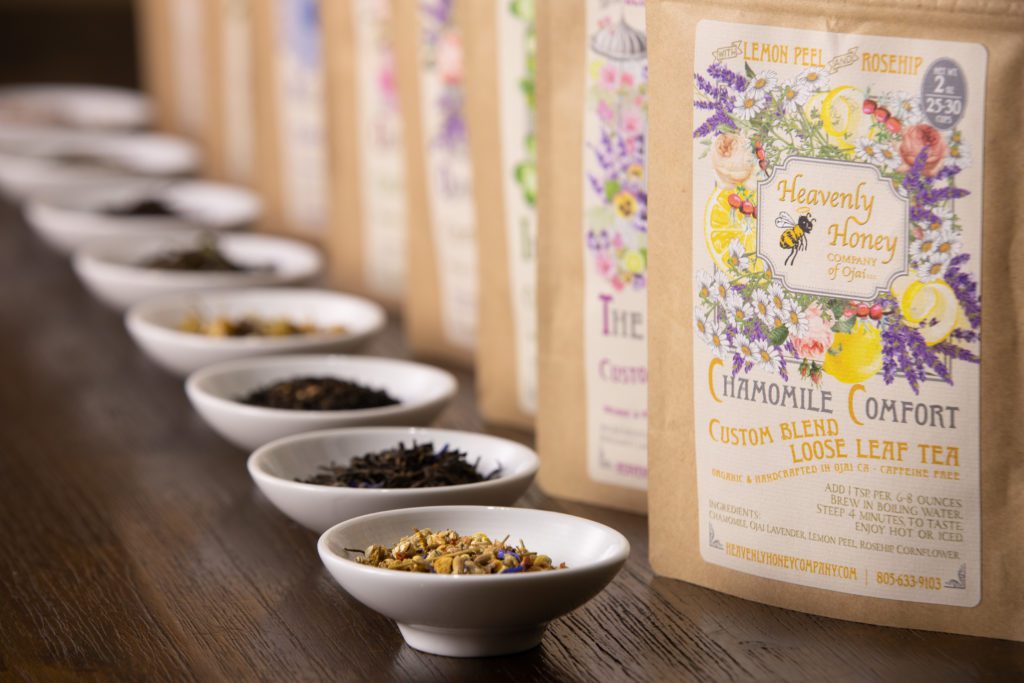 I'd like to tell you about the Chamomile Comfort tea.  Our Chamomile Comfort tea is one of our exclusive custom blends.  It is a chamomile base herbal tea and is caffeine free.  To give it a little more "Ojai," we added just a bit of Ojai grown lavender, then a bit of lemon peel, rosehip and cornflower to round it all out.  None of the ingredients stand out on their own, there is no taste of lavender or lemon, they all work in harmony with each other to make the perfect blend.  Our Chamomile Comfort Tea is perfect for that before bed cup of tea.